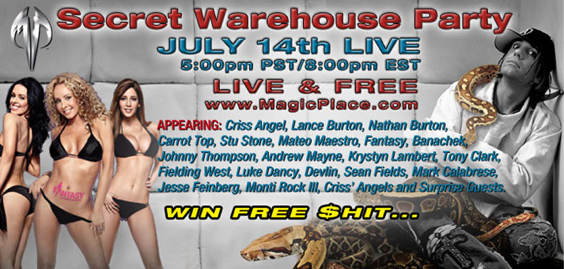 Join us LIVE THIS SATURDAY JULY 14th at 5pmPST/8pmEST for 2 hours of non-stop magic plus live performances from the super-hot Fantasy girls, Banachek, Nathan Burton, Johnny Thompson, Sean Fields, the hand-to-hand artistry from Cirque Du Soleil's Mystere, a wild championship Jello match and SO MUCH MORE!
PLUS YOU'LL have the chance to WIN every single MagicPlace.com product demo'd in real time and one very lucky viewer will WIN THE GRAND PRIZE – EVERY SINGLE MagicPlace.com PRODUCT CURRENTLY SOLD – PLUS a one of a kind collectors Baroque uncut sheet SIGNED by every magic star attending at the end of the broadcast. But you'll have to WATCH TO WIN…
BE THERE THIS SATURDAY 5pm PST / 8pm EST MagicPlace.com , Worlds Best Original Magic LIVE & FREE, We Dare To Do What No Magic Site Does!